Readers will recall our friend Calvin Pitts, whose brilliant, five-part analysis of Earhart's last flight, "CLUES: Amelia Earhart's Disappearing Footprints in the Sky," published on Aug. 10, 2018, is among the finest pieces of work to grace this blog since its inception in 2012.
Calvin is best known for his 1981 world flight, when he and two co-pilots commemorated the 50th Anniversary of the Wiley Post-Harold Gatty World Flight in 1931.  The flight was sponsored in part by the Oklahoma Air & Space Museum to honor the Oklahoma aviator Post. 
During Calvin's exceptional aviation career as an instructor, corporate pilot, airline pilot, flight manager, training manager and engineering test pilot, he flew antique planes to airshows, trained pilots and flew a multitude of single and multi-engine aircraft, including Twin Otters, DHC-7s, Aero Commanders, Metro IIIs, Lear Jets and Boeing 727s.  He also worked for 10 years in public affairs for NASA at the Ames Research Center, Moffett Field Naval Air Station, Calif.; and NASA Headquarters, Washington, D.C.  Calvin, 88, lives with his wife Wanda in the small Kentucky town of Sadieville.
On April 16 Calvin sent me a poignant, remarkable email, and I suggested that we should consider turning it into a post, to share with all who come here.  The following story, "Mitsuo Fushida, From War Hero to Evangelist" appeared on the April 14 edition of the Christian History Institute's It Happened Today and comprised the first part of Calvin's message:
In December 1941 Mitsuo Fuchida led the surprise attack on Pearl Harbor. When he sent up a green flare, the bombers accompanying him knew it was the moment to attack.  When his plane radioed "Tora, Tora, Tora," the Japanese knew the air attack had achieved complete surprise.  For the duration of the war and for years afterward, he considered the Pearl Harbor attack the most thrilling exploit of his life.  He tried to top his military success throughout the rest of World War II in attacking Ceylon and Australia.  He also fought in the Solomon Islands and at the Battle of Midway.  When it became apparent Japan would lose the war, he advocated fighting to the last man.
Nine years after Pearl Harbor, however, newspaper headlines trumpeted, "Pearl Harbor Hero Converts to Christianity." 
What had happened?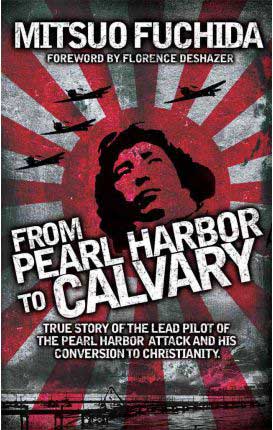 When Japanese troops were disbanded, Fuchida was among them. He was dumbfounded when he learned that a war buddy had been kindly treated in American captivity.  How could that be?  Enemies were not supposed to be kind to each other!  During the war trials following the allied victory, an American offered Fuchida a religious pamphlet in a Tokyo train station. 
Despite his Buddhist background, he took it because its title intrigued him: I Was a Prisoner of Japan.  It was the story of Jake DeShazer whom the Japanese had cruelly mistreated as a prisoner of war.  DeShazer had been filled with hatred for his captors; but by reading the Bible he had learned to love the Japanese and after the war had become an evangelist to them.  His story moved Fuchida, who purchased a Bible so he could find out for himself why DeShazer was so changed.
Reading Luke's account of the Crucifixion, Fuchida was impressed when Jesus said, "Father, forgive them, for they don't know what they are doing." He would write later, "That date, April 14, 1950, became the second 'day to remember' of my life.  On that day, I became a new person.  My complete view on life was changed by the intervention of the Christ I had always hated and ignored before."
Shortly afterward, he stood on a platform with Jake DeShazer, both men giving their testimonies.  Fuchida went on to evangelize throughout the Orient.  He wrote the story of his conversion in From Pearl Harbor to Calvary.  "I now work at striking the death-blow to the basic hatred which infests the human . . . . And that hatred cannot be uprooted without assistance from Jesus Christ. He is the only One Who was powerful enough to change my life and inspire it with His thoughts."
Mitsuo Fuchida died in 1976 of complications from diabetes.
Next comes the second part of Calvin's email, a "Personal Note" that becomes an amazing vignette bordering on the uncanny:
I heard Mitsuo Fuchida speak at a church in Port Arthur, Texas in 1956.  I met him then.  Eleven years after World War II ended, Fuchida's story was a very big event, almost unheard of.  In 1959, I took a graduate-school class in Wilmore, Ky., my boyhood home.  Jake DeShazer was also enrolled in that class.  My house was located at 203 College Street behind which, on the adjacent street, was the temporary home of Jake DeShazer and his family while he was in school.  I met him then.
Later, I learned from his daughter, while reading her book about this event, that Jake and his family returned to Japan as missionaries in 1948 on a World War II Troop Transport named the USS General M. C. Meigs.  That was in December. Ironically, in February of that same year, 1948, my parents with three children (I was 14), went to the Philippines as missionaries ON THE VERY SAME GEN. MEIGS.  In 1951, I returned to the States to attend college, with a stopover in Tokyo, Japan for a brief stay with a Japanese family, friends of my father from WWII days when he was a Captain during the South Pacific invasion.
These not-so-unrelated events of the stories of Mitsuo Fuchida, Jake DeShazer, USS Gen. Meigs, visiting Pearl Harbor two-and-a-half years after WWII and standing where this story began, attending class with Jake DeShazer, and living so close to him, brought this story up close and personal.  It is not something you easily forget.  While reading the above historical tidbit on the Christian History Institute website, I noticed a phrase which is a key fact in Amelia's decision that took her to the Marshall Islands.  Japanese soldiers, unlike the Japanese civilian population, were trained and taught to hate the enemy while fighting, and to torture them when captured.
This was the reason why Amelia Earhart and Fred Noonan were cruelly treated when captured, at the same time while being adored by many Japanese civilians, as testified to by the newspaper accounts covering the world-exploits of Amelia.  There are pictures in the news of Amelia having dinner with Japanese fans in Los Angeles prior to her world flight.
This Japanese dichotomy seems strange until one realizes the great "divide"
within their pre-World War II culture.  I also observed the very same issue while reading the diary of Joseph Grew, ambassador to Japan prior to the attack on Pearl Harbor.
For what it's worth, I'm always looking for little bits and pieces of things which
have a connection to Amelia.
The above cultural comment, which I have found in other sources, helps answer the question as to why Amelia was NOT treated as a celebrity when she was captured, and why she failed to understand the danger of landing in Japanese-held territory.  This helps explain the critical decision which Amelia herself made as she crossed her Rubicon, a later relevant subject. 
For reasons that are both legitimate and historically accurate, I believe Amelia, with Fred's navigational guidance, actually intended to fly to the Marshall Islands due to unexpected events which "painted them into a corner" where a critical but quick decision had to be made.
To validate this, triggers in my thinking include:
(1) the reminder of the hair-raising takeoff from Lae;
(2) the massive thunderstorms along the original route;
(3) en route decisions to alter the planned routing;
(4) intentional radio silence and very brief transmissions;
(5) that intent being tied to the "experimental" HFDF (high frequency direction finder) sitting on Howland, a critical issue;
(6) the extremely dangerous use of the short coral strip at Howland for takeoff at max gross weight, especially when viewed in the light of the previous close-call takeoff from Lae;
(7) the feint in using Gene Vidal's pre-planned Contingency Plan for Amelia to Tarawa if Howland could not be found;
(8) the unplanned serious weather, as viewed both from Howland, and as reported by the Hawaii PBY en route to Howland;
(9) the role of the military in using Amelia's planned route in a subtle and non-obtrusive way, making her a quasi-participant . . . but also a public "non-participant" for the purpose of "plausible deniability." In this way, she did not work for the military, but they were allowed to 'piggy-back' an experiment with her flight.
(10) the weather-related trap into which she inadvertently flew;
(11) the strong radio signal from Jaluit in the Marshall Islands, which Fred had often used in his Pan Am flying days as their No. 1 Navigator Instructor.  He had had extensive experience in this part of the Pacific, and could have been the one to suggest Jaluit as an alternate plan of action after being trapped by the weather between them and Howland.  Amelia was probably greatly relieved that a certain decision had been made for her.
(12) Amelia's Rubicon, and the warning attached to it beforehand, followed by strong statements from the White House afterwards;
(13) the last-minute decision to fly to the Marshalls based upon:
severe weather which had moved in behind her, creating a weather "trap," AND . . . the new consideration about Howland's possible inadequacy due to the experience of the close call of the Lae takeoff AND . . . the strong radio signal from the Marshalls which was familiar to Fred, AND . . . Amelia's serious misunderstanding about the major difference in the double standard of Japanese "friend & foe" culture, etc.
I've rambled much more than I intended, perhaps.  At any rate, I thought the information might be of interest to you.  (End Calvin Pitts' April 16 email.)
Calvin's meetings with Mitsuo Fuchida, the living face of the Pearl Harbor attack; Jake DeShazer, a war hero and member of Doolittle's Raiders who became a Christian missionary; his three-and-a-half years (1948 to '51) in the Philippines as a teenager with his missionary parents; his attending Brent Episcopal Boarding School in the Philippines with teachers from New England, offering excellent academic training and his 1981 world flight whose flight path crossed Amelia's twice, between Tarawa and Howland, and between Howland and the Marshalls (visually highlighted on his copy of Google Earth map) have formed a remarkable confluence within him and contributed to his special knowledge, understanding and character.  
We look forward to our next encounter with Calvin Pitts, whether it be his "My Earhart Scenario" or some other glimpse into his long and accomplished life.  Those who aren't familiar with his work should read "CLUES: Amelia Earhart's Disappearing Footprints in the Sky" as soon as possible.